I was sent a review copy of Alan J. Porter's latest book, The Content Pool: Leveraging your company's largest hidden asset. It's a well written book that's ideal for anyone who is uncomfortable about the way their organisation creates and manages its written content, as well as anyone who simply wants to manage their content in better ways.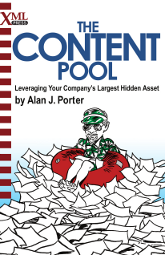 The book identifies and takes you through the key aspects of taking control of your content. I liked the book for what it left out, as much as what it covered. Content strategy and content management are huge topics, and it's easy to feel overwhelmed by it all.
He could have covered topics such as the difference between short term and long term information, the provenance of information, and the attention economy (illustrated in the video below). However, he was right to leave those topics out and keep the focus on the main issues.
Alan raises key questions (such as why are you producing this content?), and helps steer you to the answers. The book also contains many anecdotes and case studies that keep you engaged throughout the book. He keeps reminding you to check any content system you implement meets your business goals.
He states:
However, being realistic, very few if any, companies are going to leap immediately from undervaluing their content assets to having them overseen and cared for by the highest levels of the organizations.
At the start of the book, he lists many examples of where poor content has had a major impact on an organization. Unfortunately, I don't think these will persuade a CEO who thinks content is not that important to change their mind. I suspect they are more likely to change their mind if they felt their content was causing them to be left behind by their competitors.
The examples of Disney's (which is mentioned in the book) and Coca Cola's approaches to content strategy are likely to be a more convincing argument – big companies using content to gain a strategic advantage. We've also found other motivating factors to be directors who feel they don't fully understand how the organisation is doing (numbers can only tell you so much, and meeting people is time-consuming) and CEOs who feel staff are not 'getting' the organisation's goals and direction.
The final chapter provides great advice on how to sell yourself, and the idea of content strategy, to the organisation.
The worst aspect of the book is its cover drawing – it's the wrong image for a professional book such as this. So, don't judge this book by its cover – it's worth adding to your bookshelf.